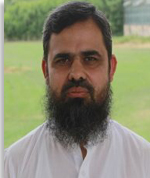 Dr. Abdul Munim Farooq is serving as Research Officer cum lecturer of Molecular Biology, Centre of Excellence in Molecular Biology (CEMB) Lahore.
As Plant Breeder and molecular biologist, he has developed genetically modified commercial crops with local resources in Pakistan. He has developed 16 Maize inbred lines. He has transformed Cry1Ac, Cry2A, GTG(Glyphosate Tolerant Gene) and Anti Frost Tolerant gene in four inbred lines of maize. He has developed high yielding Maize F1 hybrids. He has optimized tissue culture technology for Agrobacterium mediated transformation in local maize lines first time in the country.Patents on Maize are in process. Trained and supervised number of BSc(Hons), MS, M.phil students.
He started his research work by developing inbred lines and F1 hybrids in chilies. He has developed twenty four inbred lines of tomato. He has developed haploid and diploid tomato lines through anther culture. He has developed high yielding double cross hybrids in tomato.